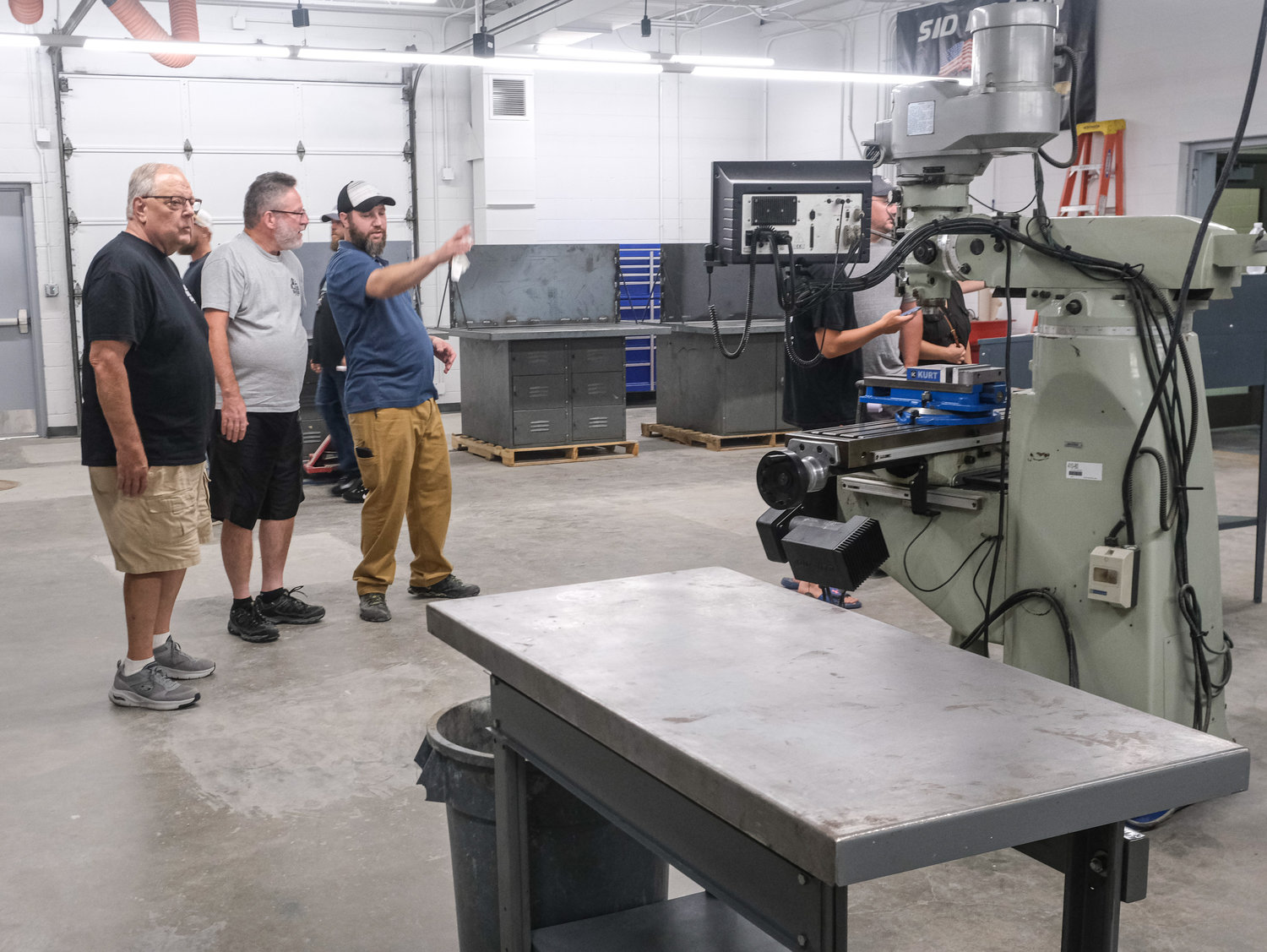 Ready for students: BHS showcases industrial arts center renovations
By Leeanna Ellis – editor@enterprisepub.com
The community got their first glimpse of the newly renovated industrial art center at Blair High School on Tuesday during an open house.
The project, which cost just over $ 2 million, created a welding lab, with 14 stations, identical to the Metropolitan Community College lab on its South Omaha campus. The 14,000-square-foot renovation also includes a construction science lab, a manufacturing lab, two art rooms, a drawing and computer lab, and a robotics and STEM lab.
"Our ultimate goal was to try and find the passion of every learner and align that passion to help them develop a skill set here at Blair that can serve as a stepping stone for them into the future," said the Superintendent. Randy Gilson said at a ceremony ahead of the school tours, which were guided by students.
Gilson said the renovations were made possible through partnerships with the Metropolitan Community College and area businesses including Lozier, Sid Dillon and The John Day Company, which donated more than $ 450,000 in equipment to students. .
Metro lent BHS precision milling machines, lathes and equipped the welding stations. The college also provides instructors to teach welding and dual credit college courses in the manufacturing sector at no cost to the district.
Gilson said Metro president Randy Schmailzl was key to the partnership.
"This is a great day for Blair and the community… This opportunity to discover and be able to take college courses makes all the difference," said Schmailzl.
Ralph Kleinsmith, head of talent research and development at Lozier, said jobs that were undesirable only 20 to 30 years ago are now desirable, which is important for industries like Lozier.
"The skilled trades are in high demand and are so desperately needed in our community and across our country," he said.
Eileen Korth of Jackson, Jackson and Associates served as the architect on the project. She thanked the BCS administration and teachers Chris Schuler, Ed Mills and Kari Schueth for their collaboration on common goals for student improvement.
"They were really students. What can we do to make this space better serve our students, "she said. "It is their passion, it is their expertise, it is their love for their students that you will see when you visit the institution."
BCS COO, Tom Anderson, gave Gilson credit for establishing the partnerships necessary to make the project a success.
"It's so exciting for our kids," he said. "This is probably one of the first times that I see something come to fruition because Dr. Gilson dreamed of it and the school board approved it and got the support of the community. I just want to thank you all.
The new facility isn't just for students who can take a two-year college program after high school, Anderson said. But rather for all students to test to see if they might like a career in welding, construction or manufacturing.
"Very few schools have this possibility. I would tell you that the metro schools probably say they offer these programs, but they have to go to those specific schools to get to this program, "he said. "At Blair, we're ready to offer here, they can test it. If we want to expand it, we can expand it and we will grow from it.
"The old saying 'If you build it, they will come. So true, "Anderson added.
There are 182 students who signed up for Welding, 108 for Automotive / Small Engines, 106 for Introduction to Technology / Programming and Website Design, 77 for Robotics, 27 for Manufacturing and 257 for construction.
There are 192 enrolled in art classes.
District 16 Senator Ben Hansen congratulated Gilson, the school board and the community on completing the facility.
"The skills training programs that will be taught here will benefit the Nebraska economy as the foundation is laid and next generation leaders learn to be electricians, welders, mechanics, carpenters, architects, construction workers and more." again, "he said.
After the open day, the neighborhood held a live auction to sell old equipment. The sale raised $ 9,203, which will be donated to the industrial arts program.