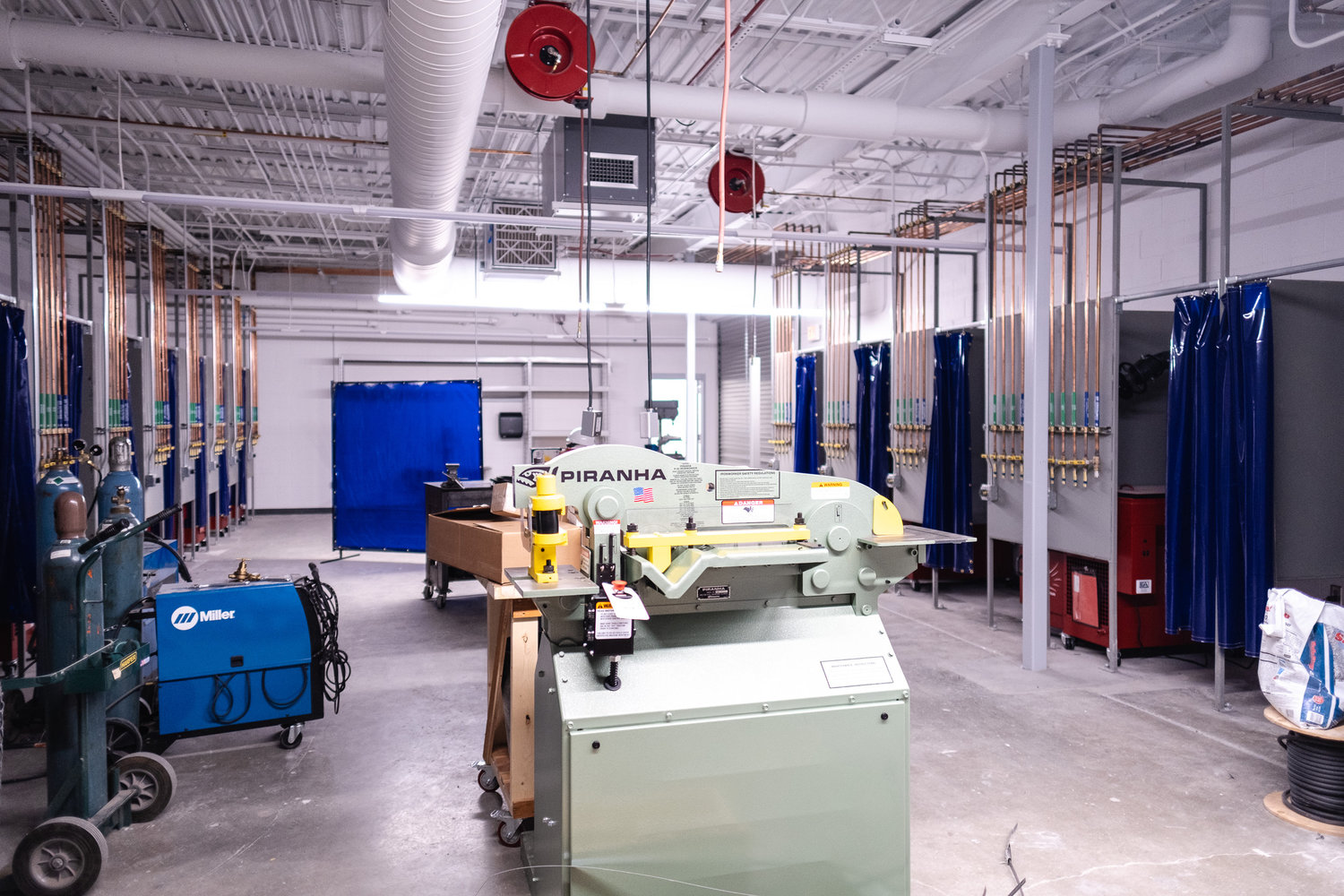 Ready for Classes: Renovations at BHS Industrial Art Center Nearly Completed
By Leeanna Ellis – editor@enterprisepub.com
The newly renovated Industrial Arts Technology Center at Blair High School is expected to have large numbers of students in its classrooms when it officially opens this fall.
Almost 300 students are enrolled in welding, wood and construction courses in the first semester.
"That doesn't count the advanced welding and precision machinery courses," said Ed Mills, who, along with Chris Schuler, teaches the industrial technology courses.
Another 300 students are expected to take classes in the second semester.
"All the woods (the courses are full), all the construction, we had to add a bit of welding. There's definitely going to be a lot of traffic here, "said BHS Director Tammy Holcomb.
"There has always been a huge interest in welding, we just didn't have the room for it," Mills added. "Now we have the venue and we're still blowing up on that one. "
Construction of the Industrial Arts Technology Center wrapped up last week with a number of items on the highlights list.
"There are a few things that need to be plugged in, but for the most part it's done," said Tom Anderson, executive director of operations for Blair Community Schools.
The new facility will allow BHS to add new programs through a partnership with Metropolitan Community College, including four dual enrollment classes – two welding and two precision. Metro will provide instructors at no cost to the district.
The project, which had a guaranteed maximum price of just over $ 2 million, created a welding lab, with 14 stations, identical to Metro's lab on its South Omaha campus. The 14,000 square foot renovation also includes a construction science lab, manufacturing lab, two art rooms, drawing and computer lab, and robotics and STEM lab.
"It's always mind-blowing that there is absolutely no added space," said Holcomb.
Mills, who loved the old space, said it was bittersweet to watch the renovations unfold.
"We have more space to work and that's great. We are getting a lot of new equipment that we will have to get used to and get installed soon. For the most part, I think we'll take advantage of it, "he said. "It will be nice to have three separate areas to teach and not have to be on top of each other to try and teach a little motor lesson and a wood lesson 1 at the same time."
The students also showed their enthusiasm for the new space.
"They were excited about this last year," Mills said. "They always wanted to go down and check. "
Last month, the BCS Board of Education approved the purchase of equipment, machinery, tools and lockers for the center for a total amount of over $ 100,000.
The district also received nearly $ 490,000 in donated equipment for the center.
"It's a big plus there," Mills said.
An open house to the public will likely take place later this summer before the start of the school year.