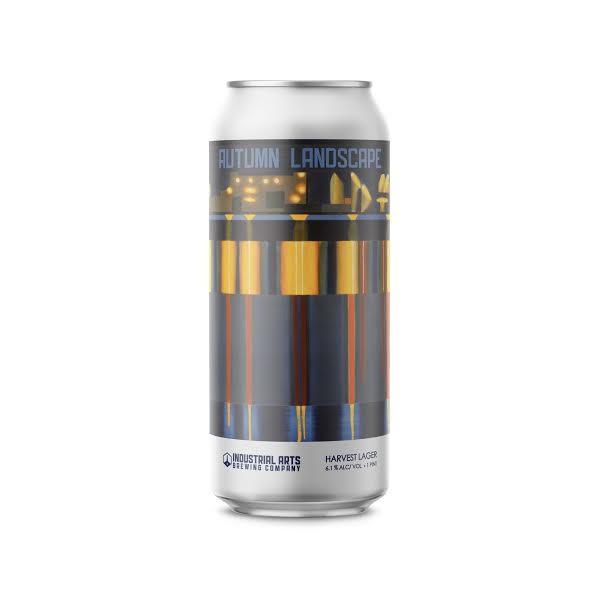 Industrial Arts Brewing launches Autumn Landscape Lager
[ad_1]
GARNERVILLE, NY – Industrial Arts Brewing Company is expected to launch the second canned offering in its region-focused lager series. The Fall Scenery includes all the ingredients of New York State and will be available in 16oz-4 packs at Garnerville Bar starting Thursday, August 30 at 4 p.m. EST.
Agricultural, artistic and philanthropic in nature Landscapes, as the series is called, is a multi-faceted project designed to showcase New York State agriculture, showcase the work of a prominent local artist, benefit various nonprofits through the release of each beer, while demonstrating their brewing techniques and affinity for traditional lagers.
"I was born here, moved to go to school, came back here about six years ago and I've never felt so anchored anywhere in the world. This is definitely my home, "says founder Jeff O'Neil. "We now find ourselves with the incredible opportunity and the humbling responsibility to care for the Hudson Valley. With this series, we are able to do this with the help of local farmers and producers, neighboring artists and non-profit organizations. "
Partnering again with local maltsters and farmers, Autumn Landscape is a Harvest Lager that showcases ground-malted Germantown pilsner malt, Bavarian Munich special malt and a small proportion of Hudson Valley Malt rye alongside Brewer's Gold hops and Mt. Hood hops from Pedersen Farms.
The Autumn Landscape label also presents "August Hudson River", the work of eminent artist and local teacher Ursula Schneider.
"I painted the first of fourteen Hudson River paintings in December 2007. The last painting was painted in 2011," explains Schneider. "Over a four-year period, I painted random views that I found inspiring. After a few years, looking at the finished paintings, I noticed how the seasons determined the colors of the paintings.
With each release of Lager, 10% of sales are donated to various nonprofits whose work aligns with project goals. Summer Landscape sales in April / May 2018 brought in $ 5,800 to Riverkeeper, a non-profit organization whose mission is to protect the environmental, recreational and commercial integrity of the Hudson River and its tributaries.
Autumn Landscape sales will benefit "Keep Rockland Beautiful," a non-profit organization that leads efforts to clean up, protect and beautify Rockland's environment by educating and empowering people to share in the care and stewardship of its communities.
"Keep Rockland Beautiful is thrilled to partner with Industrial Arts Brewing and be a part of their Landscapes project this season, which pairs perfectly with our fall waterway cleanup," says cleanup coordinator Kevin Lowenwirth. "Keeping our waterways clean is as crucial to the health of the community and the environment, as clean water is to brewing exceptional locally-made beer. "
Each new beer in the Landscapes series will be released seasonally in the Industrial Arts tasting room, followed by limited distribution in New York State.
"Each season we're going to explore a new style of Lager which, of course, will be focused on using New York State ingredients," says O'Neil. "The hope is that it snowballs and that producers and suppliers can grow with us. As 2019 approaches and into the future, we plan to expand this series with the aim of expanding audiences and raising awareness of the true origin of these beers.
For more information on the series, visit www.industrialartsbrewing.com/lanscapes
About industrial arts
Since 2016, Industrial Arts Brewing Co. has focused on fresh and expressive American beers. These modern classics are made in a state-of-the-art brewery in a sprawling historic industrial complex in New York's Lower Hudson Valley; contrast between tradition and innovation.
"Brewers first, and proud of it."
For more information visit www.industrialartsbrewing.com/landscapes or follow us on Instagram and Facebook @industrialartsbrewing
[ad_2]
Source link