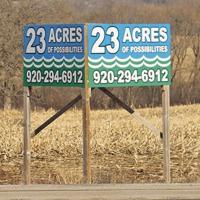 Green Lake Highway 23 and Evensong Way Developments Move Forward | News
A few major developments in Green Lake are about to come to fruition, including construction projects in the Highway 23 Industrial Park and along Evensong Way.
Plans for the Highway 23 industrial park have changed as KDR Wood Design Co. now plans to purchase the entire industrial park, rather than a 12-acre portion of the land. KDR hopes to develop part of the industrial park to house its sawmill and carpentry workshop.
"It doesn't really change what we intended to do there, other than the fact that we now have more land which we can either sell later or expand further," said the KDR owner, Kaleb Ranker. "We don't have a specific plan yet."
Along Evensong Way, a developer wants to buy Evensong Spa and a 24-acre plot of developable land off Trillium Circle for a building project.
Green Lake Mayor Ray Radis could not name the developer, but said the developer was still working on purchasing a property.
He added that the developer is working on drafting a project narrative for a planned unit development (PUD), which will be presented to the Planning Commission.
"There's really no other information I can give you," Radis said, noting that the details of the development were discussed behind closed doors at a special meeting of Green Lake City Council on Tuesday.
Green Lake resident Mike White, who bought Evensong Spa and nine other properties surrounding it in 2020, did not immediately respond to request for comment.
At the end of December, Evensong Spa announced that it would close indefinitely due to "unforeseen personal circumstances".
In a special meeting on Tuesday, City Council came out of closed session and unanimously approved the sale of the entire Highway 23 industrial park. It also voted 5-1 to work toward creating of a new tax increment financing (TID) district around the Evensong development.
Aldus. George King voted the only "no" on the TID.
TIDs are economic development tools used by municipalities to promote development in a defined geographic area. They capture the extra dollars that are created in a given geographic area when development occurs to fund aspects of that development.
Meanwhile, PUDs are communities of single-family homes — sometimes condos or townhouses — where each owner belongs to a homeowners association and are designed to be "attractive, cohesive places to live," according to Forbes magazine.
Although Radis could not provide additional details regarding the Evensong project, the mayor noted, "It will be something that I believe will be a game-changer for Green Lake and a much-needed development.
Regarding the Highway 23 industrial park, Radis said KDR gave the city a letter of intent to purchase the entire property, which was approved by the city council with minor modifications. .
"We are working on closing documents regarding the sale of the entire plot," he said. "It means that the town will remain whole thanks to our investment and we allow one of our inhabitants to develop his business."
Since KDR is buying the entire industrial park, Ranker said he would remove the need for a developer agreement between the company and the city.
"As far as ownership goes, it actually makes it a lot simpler and cleaner," the KDR owner said, noting that he doesn't have an expected closing date for the sale.
Despite some changes, Ranker remains optimistic about expanding his business.
"We feel a lot better about it now," he said. "I feel like we have a little more control over what happens there."
He added that KDR has already met with Egbert Excavating to review site preparation, is meeting with the project engineer this week and will use Cardinal Construction to construct the main buildings.
"We are very happy to move forward," the KDR owner said.