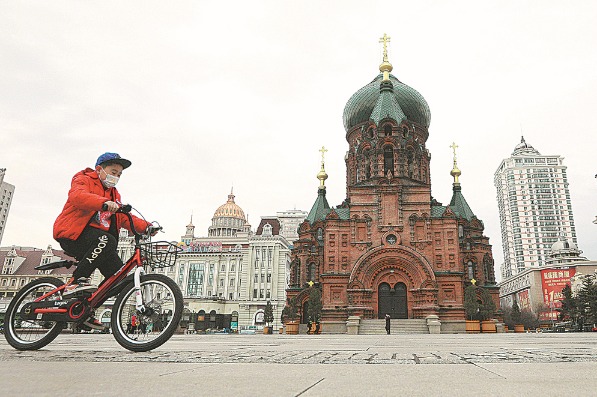 Creative industrial design tops Harbin's agenda
HARBIN – Old-school red-brick workshops, carvings made from rusting workmanship components and steam rising from chimneys recall the days when Westred Square in Harbin, capital of northeast Heilongjiang Province of China, was an industrial center.
"Today, Westred Square is a masterpiece of creative design that integrates industry and art," said Wang Limei, Director of Hongbo Business Group. In 2010, the company revamped an abandoned Bauhaus-style hydrogen plant, turning it into an innovative retail space.
Harbin Fashion Week has been held nine times in the square, and art exhibitions are frequently held in its studio-turned-galleries. It is full of trendy brands, splashes of folk culture, cafes and offices.
"We explored ways to combine intangible cultural heritage and creative design with the aim of making Harbin a glamorous city," said Wu Minghui, chief engineer of Zhongjia Urban Construction and Design.
As a former leading industrial region, Heilongjiang recently launched a special plan focusing on creative design with the aim of becoming a major design center for Northeast Asia by 2030.
"The plan was very encouraging," said Sun Jianbin, design manager of Heilongjiang Caige Industrial Design. "The charm of industrial design lies in the transformation of cutting-edge technology into concrete productivity."
The plan emphasizes that creative design underpins a variety of industries, including organic food, winter sports, biomedicine and animation, said Tan Yuhong, deputy head of the provincial publicity department.
Known as the "grain barn" of China, Heilongjiang remains a major rice-producing area, and creative enterprises have helped infuse inspiration and vitality into the province's agricultural products.
"A beautiful product arouses curiosity and ultimately encourages people to buy," said Zhou Yang, founder of Heilongjiang Guangwei Creative Design. "Behind every design are countless brainstorming sessions."
Zhou added that through clever packaging, Heilongjiang's natural and high-quality agricultural products have become more than commodities.
The province currently has about 1,000 designers and teachers, and 40,000 students majoring in the subject.
Gong Liming, director of the publicity department at Northeast Forestry University, said he hoped resources would be shared among colleges and universities to spur innovation and promote the development of Heilongjiang's creative design industry.
Tan said under the recently unveiled plan, more than 200 million yuan ($31 million) of special funding will be allocated to the sector, with small and medium-sized enterprises receiving allocations up front.
The industry is expected to surpass 20 billion yuan by 2030.
Xinhua