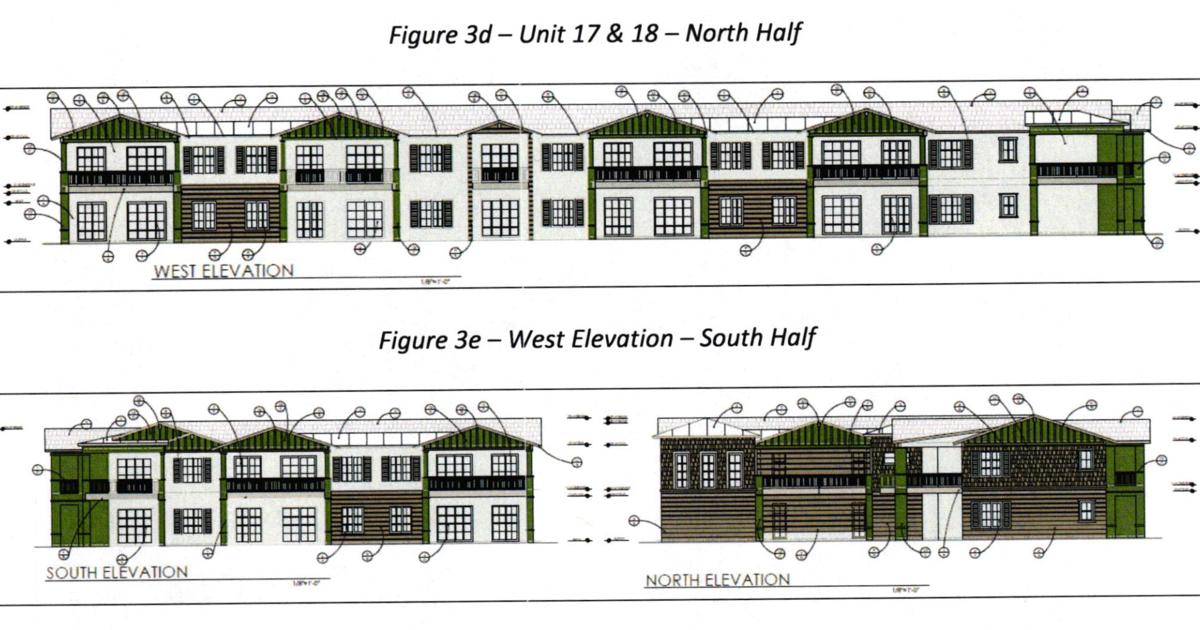 Commission approves plans for condos and a new warehouse | News
[ad_1]
Architectural designs and site plans for a residential condominium project near Tompkins Elementary School and a new warehouse were approved by the Tehachapi Planning Commission at its April 11 meeting, according to the principal. of development services, Jay Schlosser.
Diana Williams, known locally for her Re/Max Tehachapi ownership, was present at the meeting and is a partner in the joint venture that is developing the planned condominium complex. It will be located on the north and south sides of Pinon Drive, just west of Curry Street.
"The partners in this joint venture are very excited to bring these new luxury condos to our community," Williams said in a statement April 13. "We believe this lifestyle is in high demand for Tehachapi. Our ultimate goal is to provide safe, comfortable and exciting developments with single story units for our seniors, great amenities to match our residents and financing options for meet the needs of a wide range of buyers."
As described in the staff report, the project is to build 37 condominium units on 3.06 acres. The exteriors of the buildings were designed to reflect the Craftsman style with "a slight modern twist" and a "row house" concept. Multiple materials and paint colors will be used and a landscaping buffer has been designated along the facade. The color scheme will be reviewed and approved by the commission before the building permit is issued.
The project is made up of two parts – the southwest corner of Pinon and Curry and the northwest corner of Pinon and Curry:
• The 1.6 acre lot at the southwest corner will be subdivided into a single family lot which will face Black Oak Drive and a 1.46 acre multi-family lot facing Pinon and Curry. The proposed development for this plot is 16 units of 2 bedrooms and two units of 3 bedrooms.
• The 1.6 acre parcel at the northwest corner will be developed with 16 two-bedroom units and three three-bedroom units.
The project includes two-story and single-story buildings. The community will be gated and will include 57 on-site parking spaces. Rue Pinon will be widened and street parking will also be available.
All units will include a separate laundry room and dining area, in addition to a private patio or terrace. Approximately 15,000 square feet of land has been designated for community open spaces, including a children's play area, picnic area with grilling stations, community garden, dog walking trail and field petanque.
In the staff report, Schlosser noted that the project fills parcels that have remained undeveloped and complies with the city's general plan and other requirements. Other developments in the area include single family homes and another condominium development with on-site amenities, in addition to the school located on the east side of Curry Street.
Following the staff recommendation with an amendment, the commission approved the architectural design and site plan review by a vote of 3 to 0 (commissioners Daryl Christensen and Steve Hamblin were absent; commissioners Linda Hollinsworth, Kim Nixon and Charles White were present).
Instead of the walls originally proposed for the project, it will be surrounded by wrought iron fencing and pilasters to address graffiti issues, Schlosser said.
New warehouse building
Tower Tech, Inc., a Placer County-based air traffic control company, has submitted plans to construct a new 4,800 square foot warehouse and storage building on a half-acre parcel in a light industrial zoned area located at 1075 Goodrick Drive, Tehachapi.
The company's services include the provision of a fully staffed portable air traffic control complex. Its customers include the California Department of Forestry and Fire Protection and the Forest Service in addition to air shows.
According to a letter from the company submitted with its application, the pre-engineered steel building will be used to store air traffic control communications equipment. The company expects development to begin immediately with the goal of being operational at the Tehachapi site within six months.
Following the staff recommendation, Schlosser said the commission approved the architectural design and site plan review by a 3-0 vote.
Claudia Elliott is a freelance journalist and former editor of Tehachapi News. She lives in Tehachapi and can be contacted by email: claudia@claudiaelliott.net.
[ad_2]
Source link