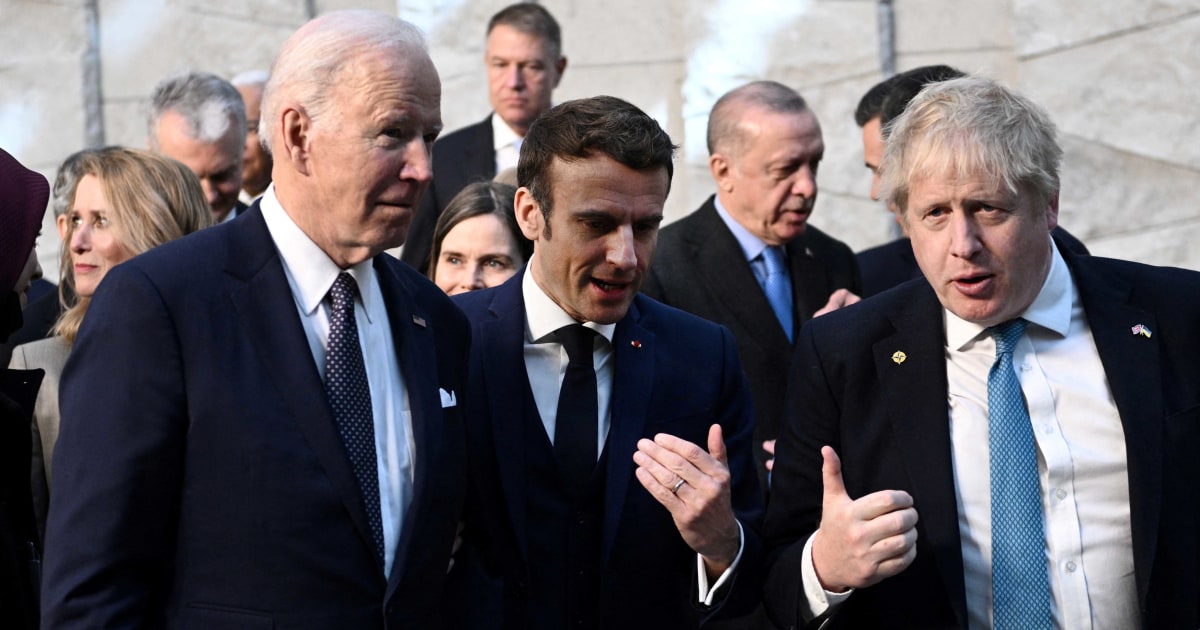 Biden, in high-stakes meetings, to push allies to step up pressure on Russia
BRUSSELS – President Joe Biden has tried to rally leaders from some of the world's most powerful democracies to step up efforts to help Ukraine in a series of high-stakes meetings here as the United States plans to announce that they will welcome 100,000 Ukrainian refugees and will deploy new sanctions against Russia.
Biden attended an emergency meeting of NATO leaders on Thursday morning. A senior administration official present at the meeting said the mood was "restrained, resolute and incredibly united."
Ukrainian President Volodymyr Zelenskyy also addressed the meeting, where he requested continued and increased security assistance. But he did not reiterate his demand for a no-fly zone or NATO membership — two moves the group rejected, the senior administration official said.
The NATO summit will be followed through a meeting with leaders of the Group of Seven industrialized nations and a speech to European Union leaders, the White House said.
Biden is due to hold a press conference after his day of meetings.
The White House is expected to announce plans to accommodate up to 100,000 Ukrainians and others fleeing the country, a source familiar with the administration's thinking said.
National Security Adviser Jake Sullivan said Wednesday that the United States also plans to announce additional sanctions against Russian political figures, entities and oligarchs on Thursday, as well as new ways to enforce them. Biden was also expected to discuss the long-term U.S. military position in Europe with allies, as well as how countries would respond if Russia were to wage nuclear or chemical war, Sullivan said.
Sullivan said the group would also make an announcement Friday after Biden meets with European Union leaders on a plan to reduce European dependence on Russian oil.
A key topic at the NATO meeting was China and recognition that alliance leaders must continue to call on Beijing not to support Russia and push to end the conflict, the senior official said. administration.
In his remarks to NATO leaders, Biden spoke about what the US has done to impose costs on Russia, strong security and humanitarian support for Ukraine, and US commitment to NATO. , the official said.
As Europe's biggest conflict since World War II enters its second month, discussions here could be among the most important of Biden's presidency. When Biden was asked, as he left the White House for Brussels, how likely he was thinking about the threat of chemical warfare, he replied, "I think it's a real threat. ."
The White House has established a team of national security officials to plan scenarios if Putin were to use chemical weapons, a senior administration official said. The so-called Tiger Team also foresees a range of other eventualities, including the potential use of biological weapons or the targeting of US security convoys. The news was reported for the first time by the New York Times.
White House officials say they hope the visit and the summits will also provide a show of unity that could deter Russia.
Biden was seen greeting and chatting with the other 29 NATO leaders ahead of the closed-door meeting, which is expected to last more than five hours.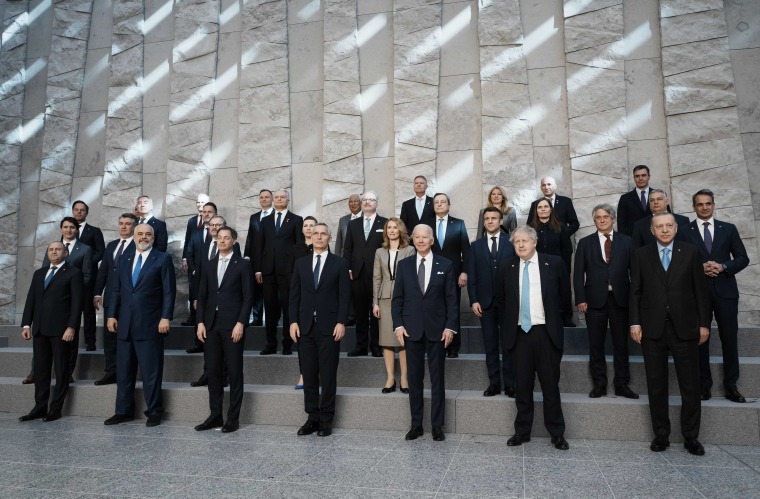 "We are united in condemning the Kremlin's unprovoked aggression and in our support for Ukraine's sovereignty and integrity," NATO Secretary General Jens Stoltenberg said ahead of the meeting. The group will also discuss efforts to strengthen the defenses of the military alliance in the short and long term, he said.
The leaders are should be okay at the meeting to bolster troops along NATO's eastern flank, deploying four new battlegroups to Bulgaria, Hungary, Romania and Slovakia, Stoltenberg said on Wednesday. NATO has prepared 140,000 troops since the start of the Russian invasion, with the United States providing 100,000.
NBC News reported on Tuesday that Biden may announce during his trip that the United States plans to permanently keep increased numbers of its troops deployed in NATO countries close to Ukraine, according to four people familiar with the talks. Sullivan said Biden is constantly reviewing plans for near-term adjustments to U.S. forces in Europe, but an announcement on the matter was not expected Thursday.
At home, Biden continues to face pressure from Democrats and Republicans to do more for Ukraine, as well as declining voter approval numbers. In one Gallup poll this month, 42% of respondents said they approved of the work he is doing, little changed in recent months, although his handling of the conflict with Russia rose by 6 points, to 42%.
Biden plans to travel to Poland on Friday to offer his support as he cares for millions of refugees fleeing the conflict and to thank the American troops stationed there.
Kristen Welker contributed.