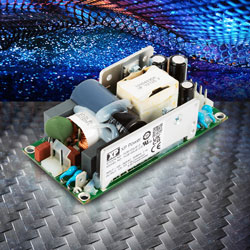 AC/DC power supplies for industrial technology and medical devices
[ad_1]
04-02-2022 | XP | To be able to
XP Power has launched the FCB100 series of AC/DC power supplies. The series is certified to medical (including BF), ITE and domestic standards for Class I and II operation (no grounding). With Class B conducted and radiated emissions in Class I and Class II configurations and supporting convection and fan cooling applications, open frame modules are excellent for medical, home care, broadcasting, networking, communication, test and measurement and other industrial equipment.
All models in the series support a wide operating input voltage range of 80 VAC to 264 VAC, supporting global compatibility and home care applications, and have sub-zero no-load power consumption .3 W. A choice of six standard output voltages is offered: 12V, 15V, 19V, 24V, 36V and 48VDC.
The series operates at ambient temperatures from -25C to +70C. With external forced air cooling the units produce 100W up to +50C, derating linearly to 50W at +70C. Units can be convection cooled for low audible noise, delivering 80/85W up to +50C, derating linearly to 40/45W at +70C depending on model. Open frame models measure 101.6mm x 50.8mm x 31.8mm (4″ x 2″ x 1.25″) and weigh 160g (0.35lb). standard protection against overvoltage, overload, short circuit and overheating.
Input to output isolation is 4000 VAC (2 x MOPP), input to ground 1500 VAC (1 x MOPP) and output to ground 1500 VAC (1 x MOPP) combined with a low leakage current for compatibility with BF rated medical devices. Safety certifications include IEC/ES/EN 60601-1, IEC/UL/EN 62368-1, IEC 60950-1 and IEC 60335. Products also comply with EN55035 and IEC 60601-1-2 ed4 EMC standards.
[ad_2]
Source link