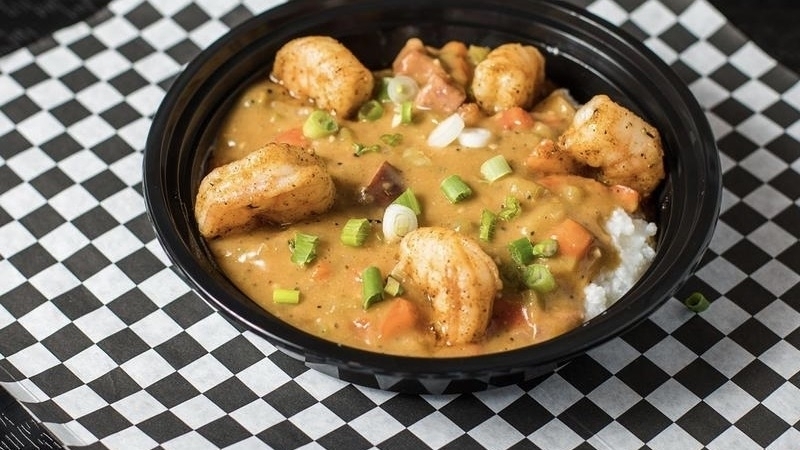 An overview of 2021 catering features at Cedar Park, Leander; Merry's Mud Pottery House now open in Round Rock and more business news
Cajun Skillet's Shrimp and Oatmeal Dish ($ 10) is made with Cajun oatmeal and sauce topped with fried shrimp. (Courtesy Cajun Stove)
Read the top business news from the past week in the Central Texas area.
Cedars-Leander Park
ROUNDUP: A Sneak Peek of 2021 Dining Features at Cedar Park, Leander
These 11 restaurants were featured this year in the Cedar Park-Leander edition of Community impact journal.
Southwest Austin
Oak Hill Parkway 15-lane project sparks concern and optimism among local businesses
The project, which will primarily have 10 to 12 lanes in total but could have as many as 15 lanes in some locations, is expected to have traffic in its final configuration by 2025, said Brad Wheelis, a public information officer at TxDOT. Construction will be fully completed in 2026, according to Wheelis.
San Marcos-Buda-Kyle
ROUNDUP: 10 Restaurants From Pizza To Seafood Tacos Featured In San Marcos, Buda And Kyle In 2021
As 2021 draws to a close, here's a look at the 10 restaurants Community impact journal featured in San Marcos, Buda, Kyle area that might help you find your next favorite local restaurant.
New Braunfels
ROUNDUP: 12 featured restaurants in New Braunfels in 2021
New Braunfels is home to restaurants that serve both classic and unique flavors. Here is an overview of 12 local restaurants presented by Community impact journal in 2021.
Round rock
Merry's Mud Pottery House now open in Round Rock
Merry's Mud is owned by Merry Smith, who teaches pottery lessons and also offers coffee, tea, hot chocolate, and pastries.
Taylor Girtman, Benton Graham, Zara Flores, Lauren Canterberry, and Brooke Sjoberg contributed to this report.